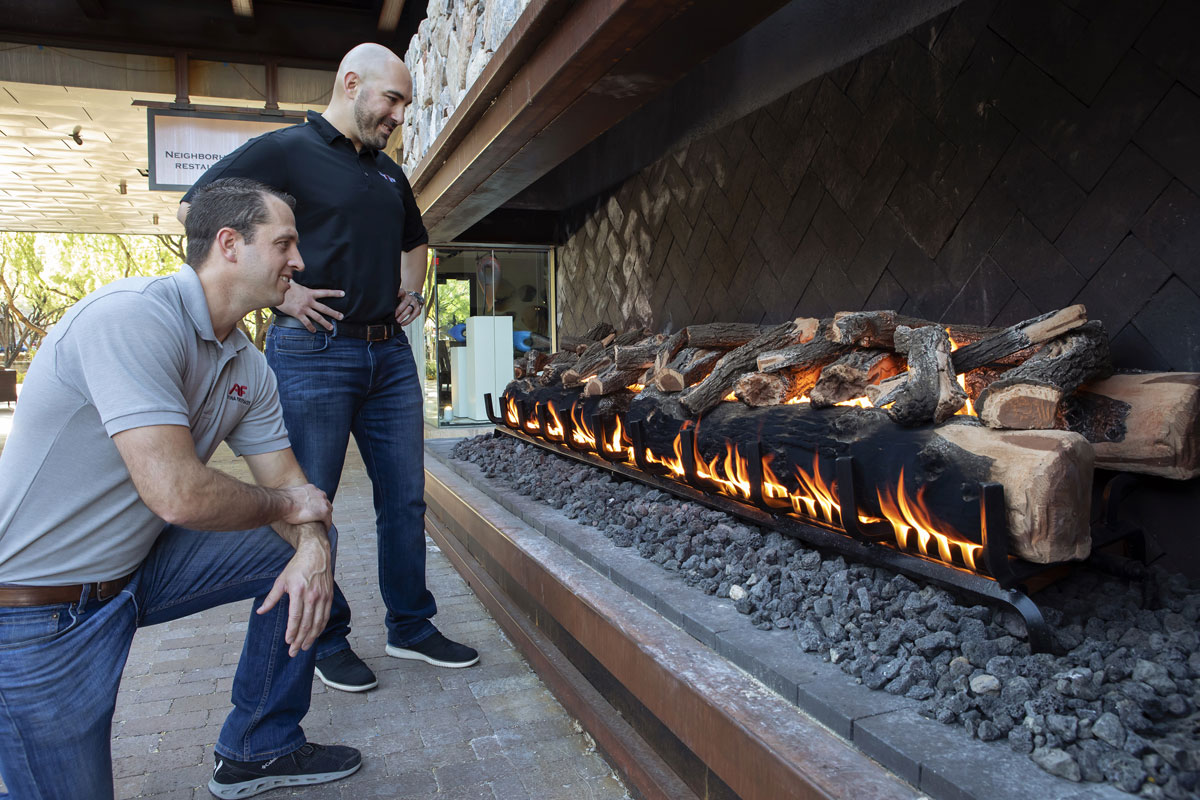 Phoenix – Grand Canyon Gas Logs celebrated another milestone this month as they manufactured the longest log set in the nation – a 120" treatment to suit the construction needs of client Whitestone Reit. Whitestone Reit is a publicly traded real estate investment trust company, and in April, Michael Parrish, Director of Construction, contacted family owned and operated Arizona Fireplaces to collaborate on selecting the right fire feature for Market Street at DC Ranch, a rustic-style shopping center with boutiques, restaurants, salons & other services.
The sheer expanse of the fireplace wall, coupled with anchoring it as an intimate place to gather put John Farrier, Outside Sales for Arizona Fireplaces to work on evaluating specs and teaming up with Grand Canyon Gas Logs to supply the perfect solution. When asked about the biggest challenge for this project, John replied, "I just wanted to offer something substantial in scale – a log set that not only filled the outdoor "room", but one that elegantly captured the warm feel of the space."
This is the largest log set sold and installed by Arizona Fireplaces in their storied 40-year history which sees more gas log sales per-capita than any other part of the country. The 120" gas log set is Grand Canyon Gas Logs largest production log set and the largest gas log set in the fireplace industry. When asked about the magnitude of this install, Elliott White, Grand Canyon Gas Logs, states "It is one thing to talk about building the largest logs in the industry, its another thing to actually make it happen. This is definitely a significant installation showcasing a glimpse of our manufacturing capabilities."
To see the fireplace in person, go to Market Street at DC Ranch located at the southeast corner of Thompson Peak Parkway and Pima Road in Scottsdale.
About Grand Canyon Gas Logs
Grand Canyon Gas Logs, established in 2014, was created to bring quality, realism and American manufacturing back to the hearth industries gas log market. Scouring the South West for the perfect logs, each log is individually cast and hand painted to perfection. Designed, engineered and manufactured in the United States of America, Grand Canyon Gas Logs craftsman pour American pride into each log and burner they build and are widely known as the "craft beer" of the gas log industry. Our gas log burners are manufactured in the Heartland of America using high-quality stainless-steel components and a fully welded frame. In 2019/2020 Grand Canyon Gas Logs was recognized on the Inc5000 list at #938 as one of the fastest growing privately owned companies in America. Grand Canyon Gas logs employs over 30 years of experience in the hearth industry devoting their experience to innovating products for an ever-evolving marketplace. Learn more about the company by visiting their website grandcanyongaslogs.com.
About Arizona Fireplaces
Arizona Fireplaces was founded in 1980 and remains privately owned and proudly based in Phoenix, Arizona. They have grown from its founding entity 'Arizona Fasteners Corporation' which began by servicing hardware needs of the local home building community. Today Arizona Fireplaces services the Valley of the Sun with the service, sale and installation of fireplaces to builders, contractors, designers, architects and retail customers. AF Distributors a division of Arizona Fasteners Corp, distributes hearth products to the entire South West including Arizona, California, New Mexico, Nevada, Colorado, Utah, Texas & Oklahoma as well as online order fulfilment for the largest online retailers in the industry. The other related companies include AF Steel Fabricators (fabricators and installers of structural steel in metro Phoenix for large commercial and residential builders). A separate Company yet same family ownership is Modern Flames, LLC (manufacturer and international brand of electric fireplaces).
Phoenix Business Journal listed Arizona Fireplaces (Arizona Fasteners Corp) as Arizona's 28th Largest Phoenix-Area Family Owned Companies. Also, Arizona Fireplaces has been ranked by INC5000 as one of the fastest growing companies in America. Learn more about the company on their website arizonafireplaces.com.
About Elliott White, GM, Grand Canyon Gas Logs
Born and raised in Chandler, AZ, Elliott White is a true Arizonan. His alma mater: Arizona State University. One of the (many) things we admire about Elliott is his zest for life, his desire for more – for being the absolute best he can be in all aspects of life. After being out of school for six years, Elliott went back to ASU to finish his degree. He graduated in May 2014 from ASU's WP Carey School of Business with a degree in Business Marketing.
He embraces this southwest lifestyle. A triathlete at heart, Elliott has finished six Ironman distance races. Ironman number five, however, did not come easily, as in September 2017 he was struck by a car while riding his bike. But after two surgeries and countless hours of physical therapy, he made a comeback in 2018. This triumphant moment set the stage for yet another milestone in Elliott's life when he proposed to his girlfriend Courtney White. They married in October 2019 (and he competed all in the same month!)
Elliott began his career working for a local furniture company called Salt Creek. He worked for Salt Creek for just over four years, starting out in the warehouse then working his way up to sales and then eventually managing one of their stores. Upon leaving Salt Creek, he joined the AF companies and started Grand Canyon Gas Logs, the Gas Log manufacturing company featuring all Arizona wood species and selling the product across the US. In just six years since launching Grand Canyon Gas Logs the company has grown considerably, becoming nationally known as a high-end gas log manufacturer with outstanding customer service. Today, Grand Canyon Gas Logs is a force to be reckoned with. Swiftly growing, offering hand-crafted authentic product that will be viewed as the "craft beer" of the log industry. Unorthodox methods, simple systems and customer service that takes a back seat to no one – keep an eye on this one. Elliott and team are bound to keep lighting a-fire under this industry, one log set at a time.