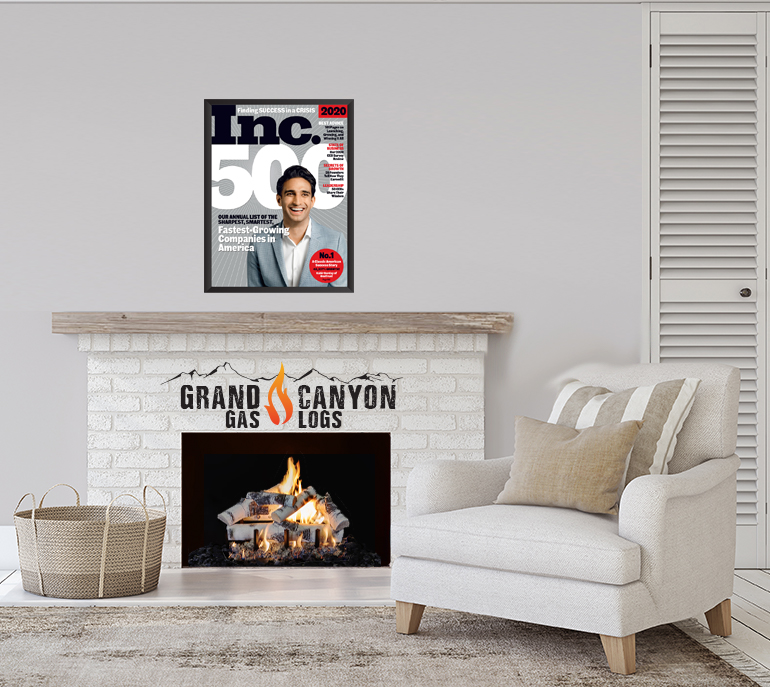 We (which includes you) did it again! For the second year in a row, Grand Canyon Gas Logs has made the Inc. 5000 list for the fastest-growing, privately-owned companies in the USA (#1085 to be precise). To all of you – our distributors, consumers, and of course every employee at GCGL supporting them… thank you!
When we started GCGL back in 2014, our goal was to bring fun, creativity, and realism to an aging industry. We wanted to deliver a superior product with the best value in the American gas log market. That's why all of our logs are made from molds cast from real logs found throughout the Arizona countryside that we foraged ourselves, and we hand-paint every single set to ensure superior realism while making each piece in every property perfectly unique. It's also why our indoor installations have a lifetime warranty. We can stand behind our product so firmly because everything – EVERYTHING – is done right here in America. The Design, Engineering, and Manufacturing are all done in the good ole US of A. Not only does that allow us to stand by our work, but it also allows us and you to be a part of reaffirming American pride in manufacturing and industry.
We believed America was ready for a hearth company like this, and wow did you all prove us right! To understand how amazing this is, and why we are both so proud and grateful, let us let you in on a little secret. It takes 3 years of records (with a year only counting if you were open Jan. 1st) and a minimum revenue threshold to even be considered for this honor. Our first year of meeting the application requirements was last year, and, thanks to you, we have now made the list both years we were eligible.
And if you're reading this and we haven't had experienced the GCGL difference of Real Logs from Real People, then we'd love a chance to let you join us on this crazy ride. If you are looking to put a gas log set in your personal home or on your patio click here to find a dealer near you. If your business sells home and patio products and you want to partner with us, fill out the form below and one of our team members at our corporate office will be back in touch soon. Alternatively, if you need to see more of our product line, click here.
Once again, we could not be more proud of our team or more grateful to our distributors and consumers for helping us achieve this honor for the second year in a row.  We'll shout it until our echoes ring throughout the entire Grand Canyon: thank you!